12th Annual Country Gospel Camp Meeting
Every year at Wheale Ranch we hold an annual old-fashioned Country Gospel Camp Meeting. It is a weekend for everyone, young and old, to come and enjoy great christian music, hear wonderful speakers, share testimonies, worship with other believers and have a chance to fellowship with friends new and old. The event is held in our indoor arena so its a great weekend, rain or shine.
The weekend starts Friday night with a 7pm evening service and continues all weekend ending with a 7pm Sunday evening service. We have different speakers and musical groups every year, but the purpose is the same. To spend a weekend sharing the gospel of Jesus Christ, enjoying fun and fellowship, and a chance for outreach in the community, all for the praise and glory of God.
Please come for the whole weekend, there are many camping sites available (no-hook-ups.) The weekend is free to enjoy, free-will offering to be received. Please share this event with all your family and friends, everyone is welcome!
CAMP MEETING 2019
Join us July 12-14,2019 for a great weekend of music and fellowship.
We have a great line-up of speakers and musicians joining us this summer to celebrate our 11th annual Camp Meeting. Check out their websites for a preview of the great music we have coming.
Music Groups
(click on their names to find out more)
and more!
Guest Speakers
CHILDREN'S MINISTRY DAILY WITH THE JOHNSON FAMILY!!!
We are very excited to have these great people here this summer and hope that you will be able to make it out and join us! Remember the weekend starts at 7pm on Friday Night. Bring your RV and spend the whole weekend. For more information and a schedule please see our poster below or
contact us here
. You can also keep updated on facebook by joining the Country Gospel Camp Meeting Page. Hope to see you at the Ranch!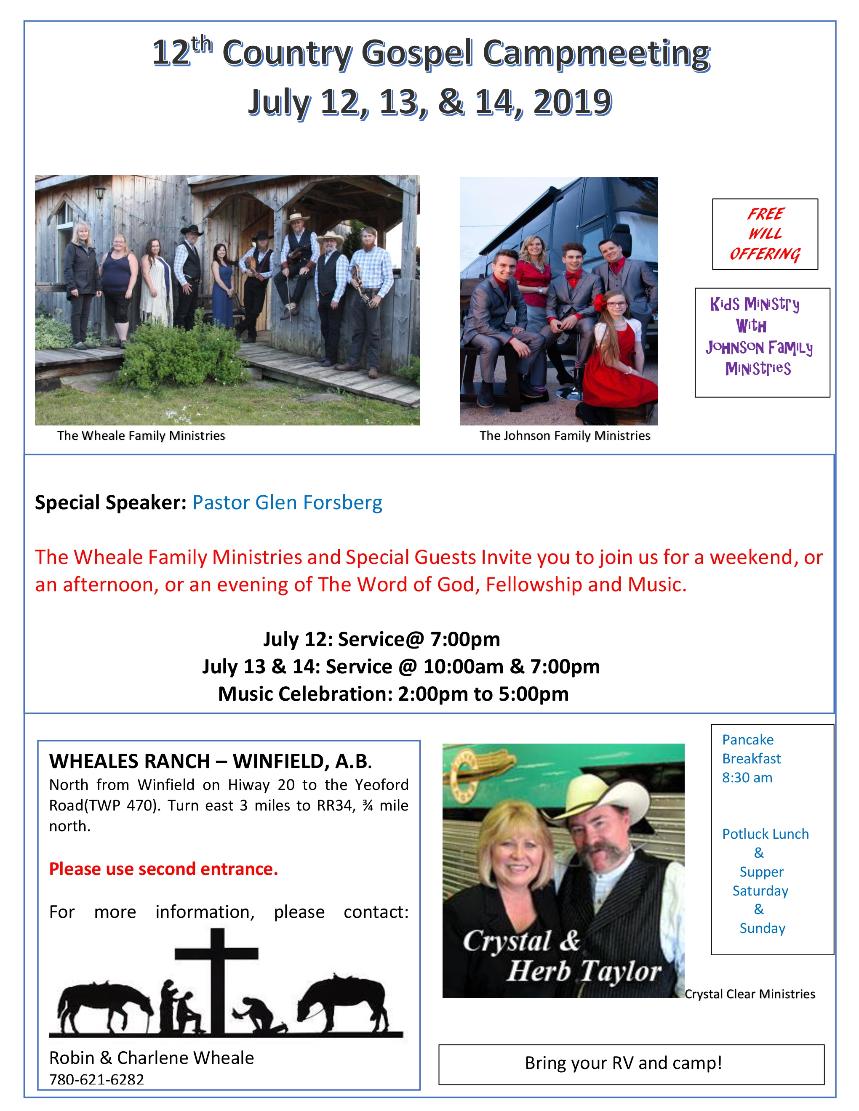 SCHEDULE
FRIDAY:
Evening Service @ 7pm
SATURDAY AND SUNDAY
Pancake Breakfast @ 8:30am
Morning Service @ 10am
Potluck Lunch @ noon
Music Celebraton from 2pm-5pm
Potluck Supper @ 5:30pm
Evening Service @ 7pm
For more information please contact:
Pastor Robin Wheale
Phone: 1-780-682-2271
Email: Please use the form on our contact page
Pictures from Past Camp Meetings